According to an article in the US National Library of Medicine National Institutes of Health, osteoporosis is frequently under-diagnosed and undertreated, despite its high occurrence in America and around the world. More than 10 million people in the U.S. have this disease with 70 percent of the cases occurring in those who are 65 years of age or older.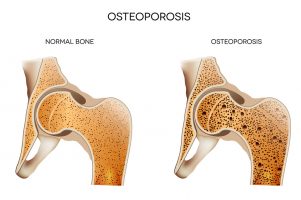 The tragic aspect of this disease is that many are unaware of its existence until a slight fall or misstep leads to one or more fractures or broken bones. These can occur from something as simple as bending down to pick up a piece of paper from the floor.
These fractures can diminish your parent's ability to remain independent and continue to perform the everyday activities of living. A broken hip requires a long recovery and intense physical therapy. As a family caregiver, you are providing an incredible service to your parent. By helping them to do enough to stay strong but not so much that they injure themselves, you are giving them the best chance at the highest possible quality of life.
How to Help
Help your loved one stay on a diet that supports their bones and muscles. This includes a diet rich in calcium, magnesium and vitamin D. Foods rich in these nutrients include low-fat dairy, leafy greens and foods that has been fortified with vitamin D such as cereals and milk. One of the best sources for vitamin D is the sun. Enjoying the sun's rays for just 10 minutes a day can often create enough Vitamin D in the body.
Your parent's healthcare team will often recommend supplements in order to ensure they get the vitamins and minerals that they need. They may also prescribe a medication which will be important for your parent to take at the scheduled times. If you are not available, there are medication alarms that help with this important task. Some even notify the caregiver should a dose be missed.
Weight-bearing exercise is also recommended. You will want to discuss this with their primary care physician before starting a regimen in order to determine just what they can do without sustaining a fracture. Walking, bicycling and dancing are all examples of weight bearing exercises. Exercises that increase one's balance and reduce the risk of falls is also important. Tai Chi, an ancient slow-motion Chinese martial art has been shown to increase balance in seniors.
Keep their home safe by limiting the possibility of falls. You can accomplish this by removing any throw rugs and other tripping or slipping hazards. Make sure their home is well lit and consider the use of motion sensor lighting or nightlights. Place grab bars in strategic locations such as in the shower and by the toilet. Remove clutter and make sure stairs have handrails on each side.
Home Care Services Provider
One of the tasks that many caregivers find the most difficult is making time for themselves. You can heed your parent's condition as a warning and begin to undertake the lifestyle changes that you are addressing with your parent. This includes a good diet, possible supplementation of calcium, magnesium and vitamin D, and daily weight-bearing exercises. A home care services provider can care for your parent while you are tending to yourself.
Resources:  https://www.healthcentral.com/article/caring-for-your-loved-one-with-osteoporosis
https://www.webmd.com/osteoporosis/tc/osteoporosis-home-treatment
If you or an aging loved one are considering Home Care Services in Massapequa NY, please contact the caring staff at Gentle Hands Home Care.