PAD stands for peripheral artery disease, a disease that affects circulation to the limbs—usually the legs. PAD occurs when arteries become narrow and the blood flow to the limbs decreases, causing symptoms like leg pain. Unfortunately, having PAD may mean that the person has other fatty deposits in arteries that could cut of the blood supply to the heart or brain, causing a heart attack or stroke. Because PAD is a sign of a greater problem, knowing whether your parent is at risk could prevent a more serious condition.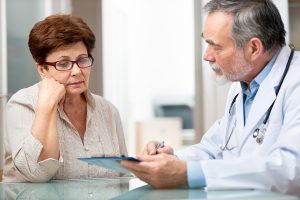 Risk Factors for PAD
There are several risk factors for PAD. Some of them are things that you cannot change, but there are some risk factors that you can help your parent address.
Risk factors for PAD include:
Smoking.
High cholesterol.
High blood pressure.
Diabetes.
A family history that includes PAD, stroke, or heart disease.
Obesity.
Age, especially over the age of 50.
Although there is nothing you or your parent can do to change their age or family history, making lifestyle changes could help reduce other risks. If your parent has diabetes, high blood pressure, or high cholesterol, keeping the conditions under control by taking prescribed medicine and following the doctor's advice can help. If your parent smokes, encourage them to quit. For people who are obese, losing weight lowers the risk of PAD while also decreasing risks for other medical conditions.
Hiring a senior home health care provider through an agency to visit your parent in their home may help them to take better care of themselves. A senior home health care provider can remind your parent to take prescribed medications. They can also help your parent to prepare healthy meals and engage in physical activity, which promotes weight loss.
Symptoms of PAD
If your parent has some of the risk factors listed above, watch for symptoms that may indicate PAD. Symptoms of PAD include:
A color change in the legs.
Shiny skin on lower limbs.
Pain in the legs, hips, or thighs after activities like walking or climbing stairs.
Feeling numb or weak in the legs.
Cold legs or feet, especially when compared to the other leg.
Sores on the legs or feet that don't heal.
Loss of hair on the feet or legs.
When PAD progresses, your parent may experience pain in their legs even when they are lying down. When they sit up and dangle their feet over the edge of the bed, the pain may lessen for a while. The pain may be severe enough to wake your parent up.
If your parent exhibits signs of PAD, they should be screened by a doctor. Even if your parent does not have symptoms, doctors at the Mayo Clinic recommend that all people over the age of 70 be screened as well as people who are under age 50 but have risk factors like diabetes or smoking.
Sources:  https://nihseniorhealth.gov/peripheralarterialdisease/whatispad/01.html
https://www.mayoclinic.org/diseases-conditions/peripheral-artery-disease/home/ovc-20167418
https://www.heart.org/HEARTORG/Conditions/VascularHealth/PeripheralArteryDisease/About-Peripheral-Artery-Disease-PAD_UCM_301301_Article.jsp#.WWToCYjyvIU
https://www.mayoclinic.org/diseases-conditions/peripheral-artery-disease/symptoms-causes/dxc-20167421
If you or an aging loved one are considering Home Health Care Services in Bronx NY, please contact the caring staff at Gentle Hands Home Care.