When was the last time your saw your dad's feet? It's not something you likely even think to check, especially if he's not a diabetic needing careful foot care. For one family, they learned the truth when it was too late.
[caption id="attachment_921" align="alignright" width="300"]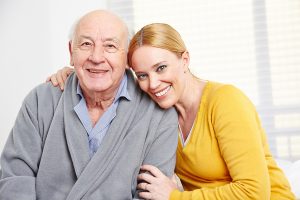 Home Health Care Little Neck NY - Have You Seen Your Dad's Feet Recently?[/caption]
In their case, their dad had broken his ankle slipping on icy steps. When he limped around the house, they assumed it was related to his ankle, which he admitted felt stiff and sore when it was cold and rainy or snowy. They never thought more of this, and that's where things went wrong.
Improper Foot Care Prevented Mobility
For months their dad would limp and rarely walked around. If they went out, he could walk for a few minutes and then needed to sit and take a break. It impacted his ability to get exercise and do things as simple as go shopping in a store.
Eventually, he reached a point where he didn't walk his dog. He preferred to have Chinese or pizza delivered to his house so that he didn't have to stand and cook or attempt a trip to a grocery store. As mobility decreased, his health took a toll.
What the Family Found When Their Dad Was Hospitalized
After falling and hitting his head and injuring his shoulder, the family took him to the ER. There, doctors showed them what was causing their dad's mobility issues, and they were shocked that it had nothing to do with his ankle. His toenails were so long they were curling into the sides of his other toes. He had cuts in the skin from the sharp toenails. It was clear he hadn't trimmed his toenails in months or possibly years.
How Nails Change as Your Dad Ages
As you age, your toenails change. The nails can become thicker and harder to trim. The nails may appear more yellow. They can develop more pronounced ridges and split easily leading to very sharp edges. Fungal and bacterial infections may appear and need medical treatment.
It's so important to have your elderly dad go to a podiatrist. The podiatrist can properly trim the nails to prevent issues. If you can't leave work to take your dad to appointments, call a home health care service to discuss having a caregiver available for safe transportation. In addition, a home health care service can help your dad with mobility and grooming. Call today to learn more.
If you or an aging loved one are considering Home Health Care Services in Little Neck NY, please contact the caring staff at Gentle Hands Home Care.