If you are the family caregiver for an aging loved one, you might be considering hiring some help. Homecare aides can be a blessing for a home with an aging senior, because they can help with many of the daily tasks that your loved one struggles with. They can help with getting dressed, bathing, using the restroom, and reminding your loved one to take their medications on time.
[caption id="attachment_890" align="alignright" width="300"]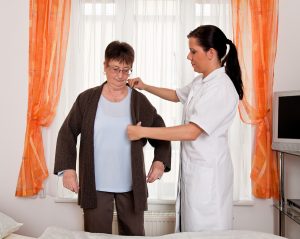 Homecare Bronx NY -
How Can Homecare Help Seniors with Asthma?[/caption]
What you might not know, though, is that homecare aides can be of more specific help as well. In addition to general care and assistance, they are also trained to help seniors suffering with chronic illnesses, such as asthma. While homecare aides are not certified to administer any medication on their own, they are capable of reminding your senior to take their medicines on time, and of helping with many other things.
Here are just a few ways that a homecare professional can assist your asthmatic loved one:
Reminding them to take medications – As mentioned above, one of the most important ways that a homecare aide can help a senior with asthma is to remind them to take any asthma medications they have been prescribed. These medications may be vital for your loved one, and having someone there to help them to remember to take them can be a great way to keep them in better health.
Retrieving medications in an emergency – Oftentimes, one does not know they are going to have an asthma attack before they have one. If a senior is in the middle of an asthma attack, they may be incapable of moving through the house to go retrieve their inhaler. Their homecare aide, however, can act fast, and can get them the inhaler quickly, so that they can end the attack and recover more quickly.
Assisting with exercise – Even if a senior has asthma, it is important that they still do a fair amount of physical exercise to keep their body healthy. You can research the best ways for your loved one to get regular exercise, and your loved one's homecare aide can monitor and assist them while they work out.
Household help – If simple things make it hard to breathe, chances are, you wouldn't want to waste your breath cleaning your house, right? Homecare aides can help with tidying things up, allowing your loved one to rest and save their breath. They can also help with cooking and other household tasks that may be difficult for your loved one to do with asthma.
Hiring a homecare aide can be a great idea for someone with asthma. With the help of a professional, your loved one may even be able to live on their own! A homecare aide can help them with nearly anything they need help with, and this will give you more peace of mind, since you know that someone is looking out for them, and helping them to live a more comfortable, relaxed life.
If you or an aging loved one are considering Homecare Services in Bronx NY, please contact the caring staff at Gentle Hands Home Care.