Every season has its benefits. As people get older, though, winter begins to lose significant appeal. For an elderly loved one who may have recently been hospitalized, or maybe had been hospitalized a couple of months ago, winter can be a burden. It may be a season that doesn't seem to want to end.
[caption id="attachment_809" align="alignright" width="300"]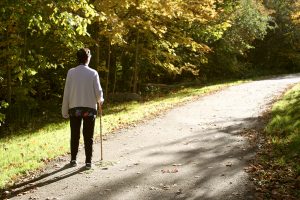 Elderly Care Bronx NY - Three Benefits Spring Brings for Recovery[/caption]
People don't get outside during the winter as often as other months.
This is especially true for the elderly who have limited mobility, diminished strength, and are not as active outside as they once were. When winter rolls in, especially in the northern portion of the country, it brings in cold, snow, and other conditions that make it difficult for somebody to enjoy outdoor living.
A senior may be advised to avoid going for walks outside or for exposing themselves to extreme cold for very long. This means more seniors have a tendency to be cooped up during the winter months, so when spring arrives it can provide a lot of benefits, including an emotional boost. Here are three other benefits to consider.
Benefit #1: Better optimism and an improved attitude.
There's something about longer days, more abundant sunshine, and warmer temperatures that helps people be more optimistic. Just getting outside and feeling those warm sunrays cascading over your skin can help inspire even the most ornery individual.
The same is true for elders who may be going through some type of recovery. When they have something to look forward to, something to feel great about, such as this warming trend, they may be more inspired to do what's necessary to avoid a hospital readmission.
Benefit #2: More outdoor activities.
Simply going for a walk, heading to a park and sitting down watching the birds and squirrels, or even gardening can all be activities that provide the senior some emotional and physical benefit. When people are more active, they have a tendency to be healthier. When people age, it becomes more difficult to maintain muscle mass and, subsequently, balance.
When an elderly person is working through recovery and is advised by their doctor to exercise, nothing is going to inspire them more than being able to do some outdoor activities.
Benefit #3: Improved safety for some.
Once winter is over and the risk of frozen precipitation or ice freezing on walk areas ends, safety can improve. The elderly may even be able to open the windows and enjoy some fresh air without worrying about the cold nights and frigid temperatures.
Now that spring is here, recovery for an elderly loved one may begin to improve.
If you or an aging loved one are considering Elderly Care Services in Bronx NY, please contact the caring staff at Gentle Hands Home Care.