Two of the challenges family caregivers face are how to keep their loved one safe and how to make sure they fit in those 30 minutes of daily exercise. The two are inexorably connected. When a loved one is strong and has maintained their balance, a fall is much less likely to occur. One of the increasingly popular exercises that accomplishes strength, flexibility and balance is Tai Chi.
[caption id="attachment_957" align="alignright" width="200"]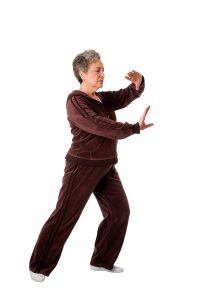 Homecare Brooklyn NY
- Tai Chi for the Elderly[/caption]
What is Tai Chi?
Tai Chi is an ancient form of a Chinese martial art that originated over 3,000 years ago. It is slow deliberate repetitive movements that look simple in nature. But these movements that flow one into the other require balance, stamina and strength—all of which develop as one progresses through the various movements. It requires focused concentration and mindful awareness, two attributes that not only contribute to good health, but also a sound mind.
Benefits for the Elderly
According to an article in Harvard Health Publications, Tai Chi is equivalent to a brisk walk and weight training. It reduces falls in seniors by up to 45 percent. It strengthens bones and muscles, improves cardiovascular health and emotional well-being. In fact, researchers found seniors who practice Tai Chi were less likely to develop high blood pressure.
How to Incorporate
Tai Chi has grown so popular among seniors that classes are often offered at the local senior community center or the YMCA. Several evidence-based fall programs incorporate Tai Chi as the core of their program.
Tai Chi for Arthritis—According to the National Council on Aging, Tai Chi for Arthritis "helps people with arthritis to improve all muscular strength, flexibility, balance, stamina and more." They believe that Tai Chi is one of the most effective exercises for preventing falls.
Tai Ji Quan: Moving Better for Balance—This is also based on Tai Chi and involves two one-hour sessions given for 24 weeks.
YMCA Moving for Better Balance—This 12-week, instructor-led group program teaches eight Tai Chi movements that have been modified for fall prevention. You do not need to be a member to take part in this class.
To find a class near your parent, contact the National Council on Aging or your parent's local Area Agency on Aging.
If your loved one is uncomfortable performing exercise in a class setting, there are numerous DVDs available. YouTube also offers several recorded sessions. This is a great way to spend quality time with your parent while both of you are enjoying strengthening the body and relaxing the mind.
Homecare Provider
If your loved one requires assistance with the daily tasks of life, consider obtaining the services of an elder homecare provider. They can also help your loved one stay strong in body and mind by accompanying them on walks, providing transportation to classes, preparing healthy meals and providing companionship.
Resources:  https://taichiforhealthinstitute.org/history-of-tai-chi-2/
https://www.health.harvard.edu/blog/try-tai-chi-to-improve-balance-avoid-falls-201208235198
https://www.telegraph.co.uk/news/health/elder/9187133/Tai-Chi-named-as-perfect-exercise-for-the-elderly.html
If you or an aging loved one are considering Homecare Services in Long Island NY, please contact the caring staff at Gentle Hands Home Care.